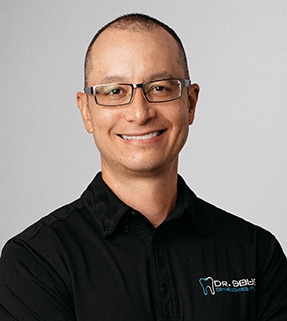 Douglas Palaganas – or "Dr. Doug" – always had a vision for a "patient-centered" practice, as opposed to a "business-centered" practice. He believes a practice should feel primarily like a practice, not like a business. Every patient of Dr. Doug's deserves his personal attention and is not just another mouth on an assembly line, which is, unfortunately, becoming more of the norm across Long Island these days. Dr. Doug's vision is to for his practice to be anything but that!
Background
Dr. Doug" Palaganas, a Long Island native, was raised in Syosset, NY, where he graduated from Syosset High School in 1994. Dr. Doug then moved on to receive his BS in Biology from Cornell University in 1998. During the year following graduation, he took a faculty position just south of Buffalo at the Gow School, a private boarding school for boys with dyslexia, many of whom also had ADD/ADHD. This was an experience that gave Dr. Doug a daily, hands-on education dealing with challenged children, a skill which would serve him well in treating all types of patients later as an orthodontist.
Dr. Doug moved back to Long Island to attend the School of Dental Medicine at Stony Brook University, where he graduated in 2003 ranked first in his class and became a member of Omicron Kappa Upsilon, the National Dental Honor Society.
He then spent the next three years in Stony Brook's post-graduate orthodontic residency program, where he received his specialty certificate in 2006 and became a certified Invisalign® provider. Dr. Doug has been practicing on Long Island since 2006 and founded Dr. Doug Orthodontics in Rockville Centre in 2013 and co-founded Great Neck Orthodontics with Dr. Janine Ellis in 2014.
Education and Continuing Education
Bachelor of Science in Biology – Cornell University
Doctorate of Dental Surgery (DDS) – State University of New York at Stony Brook School of Dental Medicine
Orthodontic certificate – State University of New York at Stony Brook School of Dental Medicine
Says Dr. Doug: "I view continuing education (CE) as an opportunity to grow as a professional. While a certain number of hours are required, I regularly double the annual requirement, and pursue courses related to the advancement of orthodontics and new technology.
CE allows me not only to stay current with the most up-to-date and efficient treatments for my patients, but often provides inspiration for an overall better patient experience. In addition to lecturing at local Nassau, Suffolk, and Queens study clubs, I am also one of the lead organizers of the annual Orthodontic Pearls Conference, providing CE to orthodontists throughout the country."
Professional Memberships
American Association of Orthodontists
Northeastern Society of Orthodontists
New York State Dental Association
Nassau County Dental Society
American Dental Association
Personal Life
A resident of Woodbury, Dr. Doug loves spending his time off with his wife Jennifer, a periodontist who he met in dental school, and their 2 children Olivia and Christian. If he's not attending his kids' soccer or baseball games, he just might be golfing or at Yankee Stadium or Giants Stadium, as he is a huge New York sports fan!
Supporting and giving back to the Long Island community is an integral part of who Dr. Doug is personally and professionally. He has participated in the Give Kids a Smile program since 2009, providing dental care to underserved children on Long Island. He also participates annually in fundraisers for the Damon-Runyon Cancer Research Foundation, the Lustgarten Foundation for Pancreatic Cancer Research, and the Cooley's Anemia Foundation.