Orthodontic Treatment with Lingual Braces
Do you want TRULY invisible treatment? Then lingual treatment is the only choice.   Lingual braces are more esthetic than clear aligners and you don't have to worry about taking them in and out to eat.  You also can't forget to put them back in!  INBRACE is the newest and most advanced lingual system in orthodontics.  Having been part of the early test group of doctors for INBRACE prior to it being available for other orthodontists, Dr. Doug has more experience than most with this revolutionary system.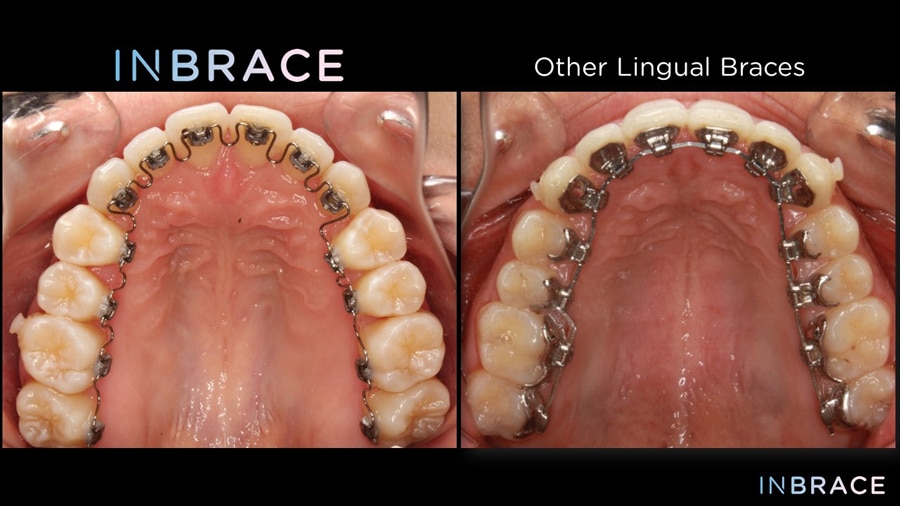 Are lingual braces the right choice for me?
1. I desire truly invisible treatment.
While Clear Aligners are clear, attachments are often needed as well.  Aligners and attachments are still slightly visible. Lingual braces are placed behind your teeth making them literally out of sight and the most esthetic option.  You will enjoy seeing your smile improve during treatment.  You won't have to wait for the braces or attachments and aligners to be removed to see your results!
2. I am not sure if I can commit to wearing clear aligners 22 hours per day.
Aside from being invisible, the biggest benefit of lingual braces over clear aligners, is that you don't have to remember to wear them!  Just like traditional braces, they are bonded on (behind!) your teeth, so they are always working to improve your smile.  Some patients can commit to wearing aligners all day, some cannot.  If you are in the latter category, lingual braces are for you!
3. I can tolerate short-term speech issues to enjoy the long-term benefits of lingual treatment.
All lingual appliances will create somewhat of a lisp/speech issue at the outset, while your tongue gets used to their presence.  Younger patients tend to adapt faster, but the more you talk (or sing!), the faster your speech will improve.
Orthodontic Treatment with Clear Aligners
Clear Aligners have been around for many years, but now we have so many great Clear Aligner options for our patients!  Often patients refer to Clear Aligners as "Invisalign,"  just like we often refer to cotton swabs as "Q-Tips".   While Invisalign was the first (and is the most heavily marketed) clear aligner brand, it is no longer the only choice, nor is it always the best option.   At Dr. Doug Orthodontics, Dr. Doug will determine which brand of Clear Aligners will provide you with the best result, while keeping the treatment costs as low as possible.  The brands we currently use most frequently are 3M Clarity Aligners, Vivid Aligners and of course Invisalign.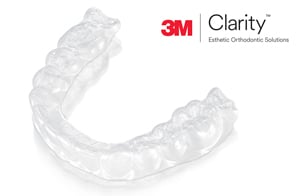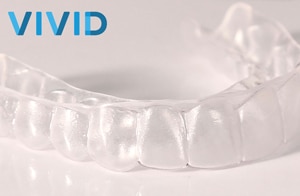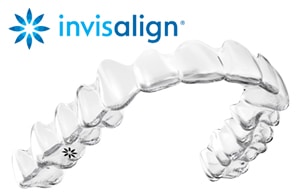 While each brand has its inherent strengths and weaknesses, the most important thing to remember is that they are simply tools.  These companies are high tech software companies and 3D printing labs.  Dr. Doug utilizes their software and custom designs each patient's case one tooth at a time. This allows us to give you the smile you deserve.  Unlike braces, Clear Aligners are removable which allows you the freedom of an unrestricted diet while in treatment.   During your complimentary consultation, we will perform a 3D digital scan without radiation, and discuss which Clear Aligner option is best for your individual case!
Are Clear Aligners the right choice for me?
1. I  desire a highly esthetic treatment option and "don' t want to see braces!"

Clear Aligners are clear!  They are made of specialized plastic that makes them nearly invisible.  While attachments are often necessary, they are made to match your tooth shade and are rather inconspicuous.  (*Attachments are small bumps made of dental bonding material that allow the aligners to grip specific teeth. They allow the aligners to put areas of pressure on specific teeth at specific times in your treatment.)
2. I'm willing to put some effort into creating my new smile!
All Clear Aligners must be worn day and night, with the exception of eating and brushing.  If we are counting hours, ideally they need to be worn 22 hours per day.  Aligners work just like braces, so they need to apply gentle pressure to your teeth virtually all day and night in order to work ideally and efficiently.
3. I don't want to worry about breaking braces!
Braces often come with dietary restrictions (to avoid sticky/chewy and very hard foods)  to prevent breakage.  Broken braces can lead to extended treatment times and more visits to the office.  Clear Aligners are removed for meals, so there are no dietary restrictions!  Your diet can remain unchanged!
4. I  don't live close to the office and/or want to have the flexibility to not have to visit the office every 6-8 weeks.
One of the best ways for us to treat patients who go away to college or don't live locally is with Clear Aligners!  We can give you enough aligners to wear until you plan to be back in the area!  Wewill monitor your progress remotely with Grin; a simple app on your phone that allows you to take video scans of your teeth for us to make sure everying stays on track with your treatment.